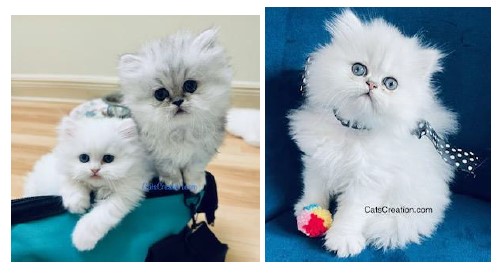 Available Teacup Persian Kittens
Expecting White , Himalayan, Siamese, Bi-Color, Silver and Golden fall and winter 2023.
 Available Teacup Persian Kittens Nursery
We are so excited to welcome our new babies in the CatsCreations nursery!  It is such a joy and blessing to watch the love mamma gives her babies. All our babies are hand raised in a loving home.  We never cage a mom or the kitty's, at any time!  We are all  hands on with all of them, making sure they have human touch from birth, and every day after.  This is essential for their ability to learn and trust in early development.  They are free to explore their environment, with lots of toys, when they are ready.  CatsCreation Teacup Persian kittens come to you with a sweet personality, well socialized  and ready to give you all kinds of love!
How will you choose?
How will you choose from our precious fur babies? Will it be a bundle of joy like Angelic blue eye white, Shimmering chinchilla silver, Dazzling golden, or introducing some of our new designer colors?
Angelic green, jewel or blue eye white kittens
Shimmering Chinchilla and blue silvers
Health First
At Catscreation we breed for health first, and size is just a bonus. You can have peace of mind knowing your kitten's health is guaranteed, and Catscreation has been a trusted breed since 1971. All Available Teacup Persian Kittens come with a complete exam by a licensed veterinarian. They are blood and fecal tested negative, have their first vaccine and come with a Florida Health Certificate.
A Gift To You and Your
New Pet
A Free gift with purchase
All kitty's come with our Little Luxury Kit with your purchase of one of our prized Teacup Persian Kittens. This will include a carrier, toys and a blanket with mom's scent. Since our kittens are hand raised underfoot in our home we do not always have kittens readily available. Beware of breeders sites who always have many available kittens!